Department of Orthopedics and Traumatology
Head of Department
Stefan Haak

Senior Consultant Surgeon
Trauma Surgeon
Emergency doctor (ATLS® approved)

Giorgos Tsiledakis

Senior Consultant Surgeon
Emergency doctor (ATLS® approved)
more information & contact details
The department offers a wide range of diagnostics and treatment of chronic or acute orthopedic and traumatologic disorders. The surgical team of doctors has been educated and trained in Germany in Berlin, and they have actively been there in surgery for many years.
Minimally Invasive Surgery
One focus, in the minimally invasive treatment (keyhole surgery), is acute and chronic discomfort in the joint of the knee and shoulder. The surgical procedures are usually performed arthroscopically. This means that the operation takes place with two or three small stitches using a camera with a monitor and special instruments without the necessity to open the joint with a large incision. This procedure offers the patient a gentle, low-risk surgery with faster recovery.
Orthopedic emergency care
The surgical emergency care is ensured by establishing a 24-hour on-call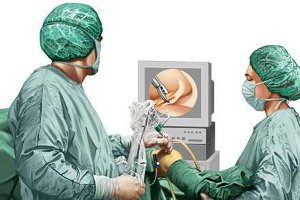 Another focus of the department is the treatment of acute and emergency care in trauma. This includes the classical treatment of wounds but also diagnostics and surgical therapy for injuries of the bone (osteosynthesis, internal fixation). The injuries of tendons and nerves concerning hand surgery can be treated professionally as well.
Integrated into the department are also both vascular and plastic surgeons. Diseases in the field of pediatric surgery are treated as well.
Technical equipment
For urgent and planned operations modern diagnostic and treatment systems are provided. In addition to ultrasound and conventional X-ray machines also computed tomography (CT) and magnetic resonance imaging (MRI) can be used for accurate imaging and diagnosis. The operating rooms are equipped with modern instruments aimed in particular at the minimally invasive surgery (arthroscopy tower, microscope).
Surgical spektrum
Orthopedic Surgery
Arthroscopic and open operations on joints

Shoulder joint

Arthroscopy
Reconstruction of the rotator cuff
Decompression for Subacromial Impingement Syndrome - Acromioplasty
Bursa removal
Calcific tendinitis
Removal of loose bodies

Knee joint

Arthroscopy
Meniscectomy and Meniscus Repair
Chondroplasty optionally with microfracturing
Synovectomy
Patella luxation
Reconstruction of the anterior cruciate ligament
Removal of loose bodies

Other joints (e.g. wrist, ankle etc.)

Arthroscopy
Chondroplasty optionally with microfracturing
Synovectomy
Removal of loose bodies

Spine surgery

Discectomy (herniated disc)
Laminectomy - decompression for spinal stenosis
Spondylodesis (spinal fusion)
Kyphoplasty (vertebral body reconstruction)
Treatment of spondylodiscitis (intervertebral disc infection)

Nerve decompression surgery (neurolysis)

Carpal Tunnel Syndrome
Sulcus ulnaris syndrome
Tarsal tunnel syndrome
Morton neuralgia
Inguinaltunnel syndrome
Posttraumatic nerve compression

Soft tissue surgery

Ganglion removal
Bursa removal
Hematoma treatment
Fasciotomy in compartment syndrome

Forefoot Surgery
Hand Surgery

Dupuytren's contracture
Trigger finger
Trauma Surgery
Wound Care

Acute wound management
Treatment of septic wounds (wound infection)
Treatment of bone infections (osteomyelitis)

Tendon injuries

Achilles tendon rupture
Patellar tendon rupture
Quadriceps tendon rupture
Biceps tendon rupture
Suture of flexor and extensor tendons of the hand

Fracture osteosynthesis (surgical reconstruction - stabilization of fractures)

Fracture treatment in all joints and long bones
Fracture treatment in the hand and foot
Fracture treatment in the shoulder girdle (AC joint, clavicle)
Fracture treatment of the spine
Fracture treatment in children (pediatric traumatology)

Removal of implants
Video: Arthroscopy Knee Joint
Surgeons: Stefan Haak / Giorgos Tsiledakis
Video: Arthroscopy Ankle Joint
Surgeons: Stefan Haak / Giorgos Tsiledakis