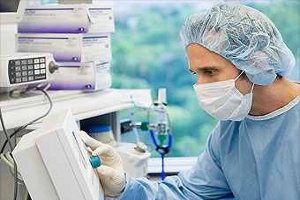 Department of Anesthesiology and Pain Management
The Department of Anesthesia and Pain Management enables all surgical procedures by using modern anesthesia, monitoring and therapeutic procedures and techniques. Our main priority is to accompany our patients through the surgical procedure free from pain and fear. Thus, we achieve greater comfort and satisfaction, and faster recovery for the patient and a shorter hospital stay.
The main tasks of the Department of Anesthesiology and Pain Management are:
detailed preparation and education of the patient before a surgical or diagnostic procedure
active participation in the initial care of injured patients
use of modern and safe methods of anesthesia in surgery in planned as well as emergency operations
close postoperative monitoring and treatment
prescription of an individual pain management concept after each intervention
We offer all types of anesthetic procedures:
General anesthesia
Regional Anesthesia: Spinal or epidural anesthesia (PDA), peripheral nerve block
conscious sedation
In our anesthesia outpatient department we assess the individual risk profile and inform the patient about the individual anesthetic procedures before a surgical intervention.