Department of Surgery
Head of Department
Giorgos Tsiledakis

Senior Consultant Surgeon
Emergency doctor (ATLS® approved)

Stefan Haak

Senior Consultant Surgeon
Trauma Surgeon
Emergency doctor (ATLS® approved)
more information & contact details
The department offers a wide range of diagnostics and treatment of chronic and acute diseases in the general and visceral surgery area. The surgical team of doctors have been educated and trained in Berlin, Germany, and have actively been there in surgery for many years.
Primarily the spectrum of surgery is of abdominal cavity diseases, for example of the gastrointestinal tract or the gallbladder and biliary tract (gallstones, biliary colic). Furthermore it includes all hernia surgery (inguinal hernia, umbilical hernia, abdominal wall hernia, incisional hernia).
Integrated into the department are both vascular and plastic surgeons. Diseases in the field of pediatric surgery are treated as well.
Not every disease requires surgical treatment - often enough a medicamentous therapy appears to be sufficient to treat a disease. If, however, surgery is necessary, the department has excellent staff and technical capabilities to perform surgical procedures. As often as possible the surgery is performed as part of a laparoscopy with minimally invasive techniques (keyhole surgery) thus providing modern conveniences for the patient. For this purpose the operating rooms are equipped with modern systems and instruments.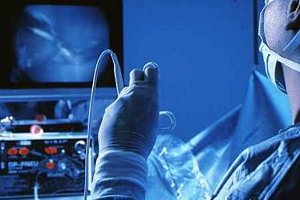 Surgical emergency care
The surgical emergency care is ensured by establishing a 24-hour on-call
In the urgent care of surgical diseases it is possible to use any modern diagnostic procedure. In addition to ultrasound and conventional radiography, this also includes the computed tomography (CT) and magnetic resonance imaging (MRI). Furthermore, endoscopic procedures of the stomach and colon can be arranged.
Surgical spectrum
Abdominal cavity surgery e.g.

Laparoscopy (operation performed through small incisions with the aid of a camera)
Laparoscopic cholecystectomy (gallbladder removal)
Laparoscopic appendectomy
Laparoscopic adhesiolysis (removal of adhesions)
Laparoscopic removal of ovarian cysts
Stomach surgery
Small bowel surgery
Colon surgery
Acute injuries of abdominal organs (e.g. ruptured spleen)

Hernia repair e.g.

Inguinal hernia
Umbilical hernia
Abdominal wall hernia
Incisional hernia

Rectal surgery e.g.

Hemorrhoidal disorders
Fissures
Marisks
Fistulas

Soft tissue surgery e.g.

Biopsies
Removal of skin and soft tissue tumors
Lymphadenectomy (removal of lymph nodes)
Treatment of acute soft tissue injuries
Breast surgery
Skin grafting (transplantation of skin)
Plastic surgery in soft tissue reconstruction

Septic surgery e.g.

Abscess
Pilonidal cyst - abscess
Debridement of chronic wounds (e.g. pressure ulcers, diabetic foot)

Vascular surgery e.g.

Introduction of indwelling venous systems (port implantation)
Saphenectomy - varicose vein surgery
Dialysis shunts
Intervention in acute vascular occlusions
Video: Laparoscopic Cholecystectomy
Removal of the gallbladder
Surgeons: Giorgos Tsiledakis / Stefan Haak
Video: Laparoscopic Appendectomy
Acute Appendicitis
Surgeons: Giorgos Tsiledakis / Stefan Haak